Welcome to Our Team
I'm so glad that you are part of our team. Being a musician in a worship team is both exciting and challenging, but through it all we're a family on this journey together. God has blessed you with unique talents and abilities that He uses to build and encourage His kingdom. What you do matters and we GET to do this! What an amazing privilege! The God who created the universe gives us a purpose to come under Him and create music for His bride through worship. Our team doesn't take this responsibility lightly around here and it's considered a great privilege. The good news is that it doesn't all depend on us. The Holy Spirit works in and through us to lead our church to an encounter with Him each time we meet together. I know that joining a new team can be a little overwhelming, so hopefully this playbook will provide you with an overview of what goes on week to week within our team. I'm not gonna lie it is complicated, however our Team Leadership has tried our best to provide you with the simple ideas that make up our team culture. Our hope is that this information helps us function with excellence and consistency. I'm so excited about getting to know you more as a part of our Worship Team. This is an exciting time at Revolution Church and I look forward to seeing you grow in your relationship with Jesus along with the relationships that are built within our team.

What is the Revolution Worship Team and how does it function?
Our Worship Team is a large group of musicians across multiple cities broken down into smaller bands in order to facilitate worship at rehearsals, gatherings, or events at a scheduled time and location. Our rehearsals and gatherings happen on a weekly basis. We utilize multiple ministry platforms in Adults, RevStudents, and RevKids to encourage worship. We also lead worship at Revolution Church ministry events on occasion (i.e. conferences, worship nights, etc.). We serve with our musical talents and lead others through our spiritual gifting. We believe that there is no stage too big or small for us to use to glorify God.

Thad Wood
Artist Development Pastor
Our Team Culture
Culture is defined by Merriam-Webster as a set of shared attitudes, values, goals, and practices that characterizes an organization. Our Team is a part within the larger body of Revolution Church. Our culture does not replace our church's mission and values to LOVE JESUS. GROW PEOPLE. Instead, it falls underneath and is unique to our team of bands and musicians. It's impossible to grow as a Christian without a family of believers to walk alongside you through relationship. The Bible calls this process discipleship. By joining our team, our leaders commit to helping you grow as a disciple of Christ and develop into a skilled artist.

What is the "WIN"?
When a band is asked to facilitate a gathering or event, the "win" is two-fold; both vertical and horizontal. Simply put, we win when we worship God (vertical) and usher others into worship (horizontal). In order to lead our congregation well, we must worship the Lord with our own hearts and minds...while, simultaneously engaging and bringing others along with us.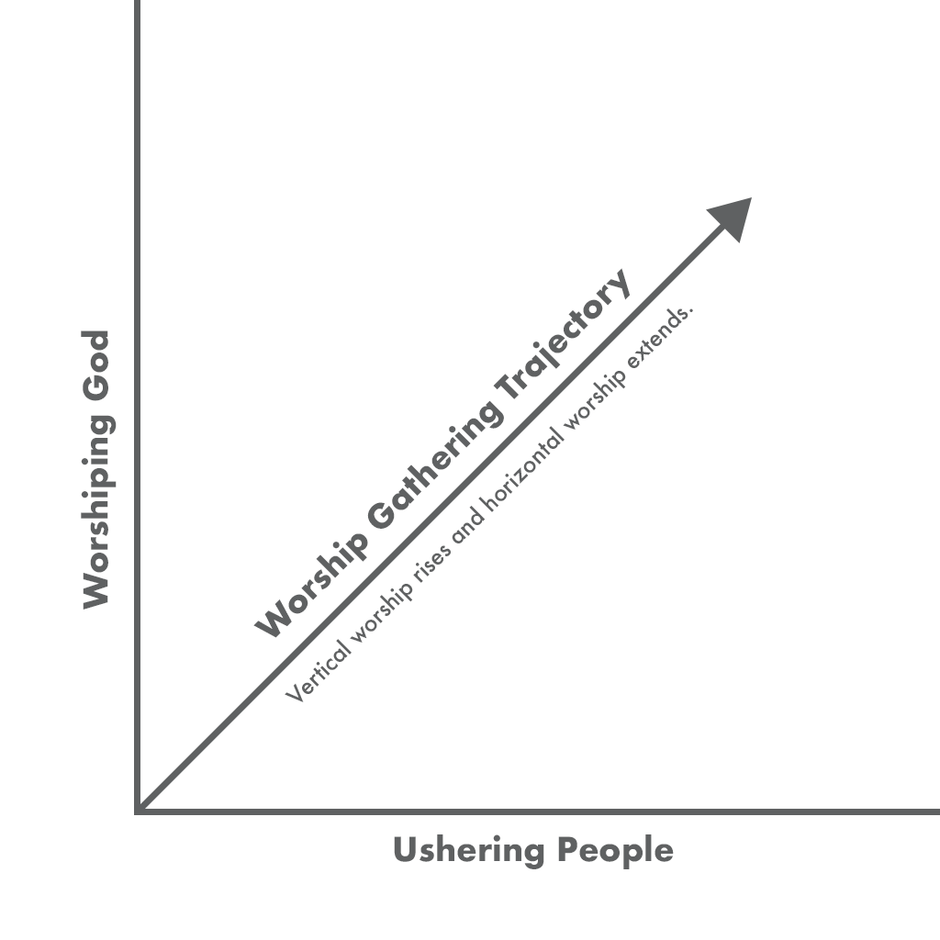 Practical measures of vertical worship:
1. The Word informs our worship.
2. Prayer is a natural part of life onstage and offstage.
3. Humility and honor unto God is on display through postures, countenance and preparation.
Practical measures of horizontal worship:
1. Energetic and authentic body language encourages others to worship.
2. Singing while playing encourages others to worship.
3. Skillful playing of instruments encourages others to worship.
Our Team Leadership
Artists Go First
Watch this message from Pastor Jason as he unpacks the role of the artist in the church.
Arts Ministry Staff
Our staff plans, creates and oversees all rehearsals, gatherings and events involving our Worship Team.
Onstage Leadership
Our onstage leadership facilitates and executes all of our rehearsals, gatherings and events. There are three designated roles for our stage leadership.
Worship Leader 1 (WL1)
This person's responsibility is leading the congregation during gatherings and events. WL1 also leads the band at scheduled rehearsals, gatherings and/or events.
Worship Leader 2 (WL2)
This person's responsibility is to vocally sing and lead a song (when assigned) during a gathering and to encourage the band to lead through an engaging stage presence.
Music Director (MD)
This person's responsibility is to communicate in support of the WL1 and guide the band during the musical portions of rehearsals, gatherings and/or events with direction during songs.
Our Team Expectations
The 4 P's of a Revolution Worship Team Member
Passion
Our passion for Jesus, his Church and music is what fuels our worship. Our passion bleeds and runs out into everything that we do.
Positivity
The gospel is "GOOD" news! We are carriers of the good news and it should be reflected in our lives through our attitudes and actions.
Punctuality
Being on time demonstrates that we are dependable and value others' time as much as our own. If we are consistently in the right place at the right time, it creates trust within our team and with those we lead.
Preparedness
Practice on your own time eliminates distractions on others' time. We practice and rehearse so we can engage others in worship without distractions.
Dress Code
There are 3 questions you should ask yourself when contemplating dress on stage.
Does my attire honor God?
We want to point people to Jesus in everything we do. There are times when our clothes or lack of can cause others to sin. An inappropriate printed message on a graphic tee could lead another astray.
Does my dress reflect our church's culture?
Notice what others in our congregation are wearing. We know that in social settings, like attracts like. It would benefit our mission to use every tool at our disposal, even our dress, to usher people into worship.
Does my dress distract?
Because we are on a platform, under stage lights and on cameras, it is important to make clothing choices that help facilitate worship and not conversations about the band's attire. The heart in this is to not call attention to our clothing, but to Jesus.
Some choices to avoid (not an exhaustive list): shorts, flip-flops, beanies, graphic tees, spandex leotards, pajamas, tank tops, sunglasses, short skirts, low cut tops, jeans with holes that show skin above the knee(s).
Scheduling Policies
To ensure that we allow enough time and resource for all teams involved in a rehearsal, gathering or event, we have the following policies for scheduling:
Scheduling Rotation
Our goal is to schedule our musicians for a service at least once/month and send out requests 2 months in advance. However, there are various circumstances where both are not always possible. If you find yourself getting over scheduled or without enough time to prepare, please let us know.
Responding to Requests
Please confirm or decline promptly. Leaving a request unconfirmed or unacknowledged puts a strain on our staff and team. If you are a habitual (3 or more) offender, you will be asked to re-evaluate your commitment to the team.
Block Out Dates
We all need vacations and time-off. You can help the team by blocking out the dates in PCO that you know you will be unavailable.
No Shows
If you are scheduled for a service and do not show up after confirming, you seriously hurt the team. It's like a hand without a finger. We understand emergencies occur, but please communicate. If you are a no show, you will be asked to re-evaluate your commitment to the team.
In-Ear Monitor Policy
We currently use in-ear monitoring (IEM) systems church-wide. Revolution Church does not provide personal earbuds for musicians. Every musician is responsible to purchase and maintain his/her own.
There are many great options out there and our staff encourages you to do a little bit of research in order to find what is best for your needs. Here are a few great in-ear options that we have found to be solid choices:
$20 Easy KZ
Great for vocalists or anyone on a restricted budget.

$60 KZ AS10s
A step up in the KZ line, but heard really amazing things about these.
$100 Shure SE215
Great for vocalists, guitarists and a good middle ground.
$500 1964 A2e
Great for any musician and is more of an investment, but will last longer and better sound quality.
$1000+ JH Audio
Amazing quality and support - top of the line, but definitely an investment. Would not recommend for a beginner.
If you need help or just want more info, please contact us and we'll help you find your best solution.
Our Team Communication
Offstage Communication
When scheduled in a band at your designated campus, you will receive updates to setlists, songs, or anything else from the Worship Leader 1 scheduled that week. Ideally, this is in the form of an email and/or text through PCO on the Tuesday before your scheduled gathering date(s).
Band Emergency
In case of an emergency situation, i.e. "I'm late.", "I'm sick.", "I'm locked out of the building.", the Worship Leader 1's contact is listed on PCO in the service plan under the Service Plan Notes.
Childcare
Contact us if you need childcare and we will do our best to make the necessary arrangements.
Onstage Communication
The Worship Leader 1 and MD will be the primary communicators onstage at any rehearsal, service or event to keep the band on the same page.
Worship Tools
We try and provide every musician with the tools needed to be successful at any given rehearsal, gathering, or event. If you do not have access to any of these resources, please email worship@revolution.church.
Tools in PCO
Song MP3
We provide the artist's recorded mp3 for most songs we schedule in PCO.
Song Lyrics
We provide the lyrics to each song we sing in PCO.
Track Stems
Track stems (Stems) allow you to hear instrument parts played louder than everything else in the mix. Ex. bass guitar would hear the bass guitar mixed louder than the rest of the band for a given song. Track stems available for most songs we play.
Song Charts
We provide chord charts for some songs. Charts are not always available for every song.
Performance Recordings
We record audio/video at rehearsals and gatherings and then upload to PCO.
Lessons
No matter how long you've been playing or singing, lessons are for everyone. We have partnered with several reputable trainers and coaches in the area and would love to offer to anyone on our team who wants to continue to grow.
Spotify Playlist
Listen through Spotify to our current song list for our Adult gatherings to begin familiarizing yourself with the songs we play.

Listen on Spotify
Nashville Number System
We highly encourage every team member to learn the number system. The number system is a method of transcribing music by denoting the scale degree on which a chord is built. In the most simple form, it takes the key of the song and replaces the "letters" of a scale with Roman numerals. This allows each musician to communicate the same "note or degree of the scale" to one another even though the acoustic guitarist has a capo on the 2nd fret and the bassist does not.
More about the Number System
Instrument Sections and Things to Know
Our bands are comprised of different instrument sections. Each section is unique with some "things to know" in order to be skillful in what we do.
Acoustic Guitar

Your guitar must have a pick-up system. We don't mic acoustic guitars. A wireless pack will be assigned to you when you arrive.
Please keep your strings fresh.
Have your guitar setup and intonated, if you haven't before.
Sing, even if you're not a singer and don't have a mic.
Please do not leave your guitar onstage, but keep backstage.
Vocals (WL1, WL2, WL3)

Warm your voice up with vocal exercises before taking the stage.
Download vocal exercise mp3s
Be aware of and avoid the things that irritate your vocal chords, especially right before you sing.
Be careful not to cover the antenna on the base of the microphone.
Your stage presence and body language are extremely important. Your body language speaks just as loudly as your vocal parts and should be treated as equals.
Be aware of conversations during the day. They can add up and cause vocal fatigue.
Bass Guitar

All you need to bring is your guitar.
Sing, even if you're not a singer and don't have a mic.
Have your guitar setup and intonated, if you haven't before. Your instrument is the glue that holds everything together in the mix and with that comes great responsibility. Every note you play is heard and felt.
Please do not leave your guitar onstage, but keep backstage.
Drums

You will be playing our house kit, so don't worry about bringing anything but your sticks. We do this to keep a consistent and predictable sound. If anything breaks, looks out of place or needs maintenance, please let the WL1 know.
In order to leave things better than we found them, please vacuum your sawdust from the carpet with provided vac. (Canton Only)
Please, treat the house kit as if it was your own.
Sing, even if you're not a singer and don't have a mic.
Electric Guitars

Bring you guitar, amp, and pedals with any additional cables that are needed. There is backup equipment available if needed. Talk to WL1 for details.
Communicate with the other guitarist to make sure all of the important guitar parts are covered. Usually there is a lead guitar part and a rhythm guitar part.
Make sure cables are organized and look clean from offstage.
Strive to make tone and effects sound like the recording.
Try to be engaging with body language and facial expression. It is very easy to look down at a guitar for long periods of time while playing.
Have an extra pair of strings in case one breaks.
Sing, even if you're not a singer and don't have a mic.
Keys

All you need to bring are your fingers. You will be playing through our house keyboard(s). No need to bring your own unless it is planned in advance by a WL1 or MD. We do this in order to keep a consistent and predictable sound.
Sing, even if you're not a singer and don't have a mic.
Worship Team Covenant
I have read and agree to the worship team expectations of Revolution Church. I understand the expectations for me are not a list of rules, but a biblical encouragement to help develop me as an artist on our team and disciple me as a Christ follower.

I understand I am agreeing to submit to the authority of the Worship Team Leadership and can be asked to take a break or step down if circumstances require.
I commit to upholding the culture and values of the Worship Team and to do my best to represent Revolution Church in accordance with the Scriptures.
I agree